17/10/2017
Primeline Express Powered by CESAB
Cesab is making all the difference to the overnight trunking and next day delivery operations of Ireland's largest independent logistics company.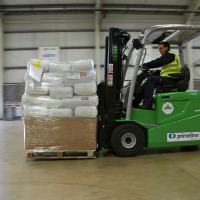 Primeline Express, which operates five depots across the UK and Ireland, is part of Irish logistics business, Primeline Group. A recent review of materials handling has seen Primeline Express choose North West based Cesab dealership Global Materials Handling and Cesab products to support its operations. Three Cesab B600 forklifts are now in use at its Warrington depot and five at its Mallusk depot, as well as the Cesab P216 powered pallet truck.
Supporting the overnight trunking of goods between the UK and Ireland for customers such as Volvo, Dune Stores, Skechers and Sony Entertainment, Primeline Express manages up to 7000 jobs every week. The 23,000-square metre Warrington depot is a fast-growing central hub for mainland UK, trunking all goods to and from Ireland. The Mallusk depot, which handles deliveries in and out for the whole of Northern Ireland, is one of a few companies providing next day delivery in Ireland.
With a very tight window every day for goods to be trunked in and out of these depots, materials handling equipment must be reliable. Depot Manager Andrew Orr said:
"Service and communications are essential requirements of any forklift supplier we deal with, and the level of communication from Andy Evans, Director at Global Material Handling, was very good from the first contact. He quickly identified our needs and came back to us with proposals that not only met these, but brought new ideas as well.
"We quickly became confident in the quality of Cesab products, including their design and build, when Andy explained these are made in Europe in ISO 14001 certified factories, using the TPS* world-leading manufacturing system."
"Cesab forklifts are powerful workhorses, comfortable for our operators to use and we've been able to optimise our uptime since these replaced our old forklift fleet. Their reliability is an essential factor in ensuring we get all our deliveries out on time, every time."
"Car manufacturers, major retailers and global entertainment corporations rely on us for fast turnaround times, a rapid response and an ability to deal immediately with any issues. With the support of Global Material Handling and Cesab, our materials handling fleet is helping us meet those demands."